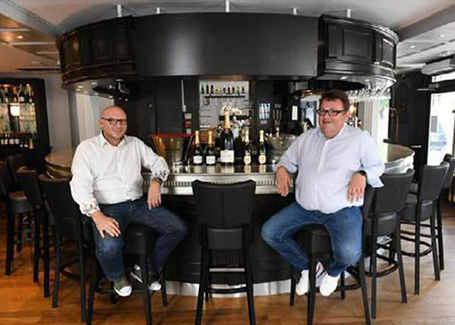 The new owners has so far remained discreet. Since 5 August, Thomas Bricout and Jérôme Cailliez have taken possession of 12 Rue Chanzy. On the front, the brand of Cru Chanzy has not yet been detached but the restaurant of 350 m2 has been renamed Bistro des anges.
Childhood friends, the two Remois followed different paths before joining forces. Thomas Bricout worked in palaces such as the Martinez in Cannes or the Goring Hotel in London, before becoming an importer and distributor of wine in the English Capital for 21 years. Jerome, after having held, with his wife, 20 years ago the Henri IV, which they had created in Reims, has since supplied many French cafes, hotels and restaurants with various food products.
The façade of the restaurant will not be completed until the end of September, but the interior has already begun to be renovated. The large zinc counter top has been preserved and two first rooms have been redecorated with floral wallpaper in a sober atmosphere. The rest of the restaurant, a third room on the ground floor and the floor, consisting of a terrace and a room to be privatised, will also need to be renovated. The team must also be completed, and the two partners are looking to hire four people in the kitchen and on the floor. Traditional dishes alongside with international dishes and vegetarian recipes on the menu.
On the plate, "fresh food with dishes that change regularly," Promises Thomas. "The main focus is on using French products," adds Jérôme, in charge of supplies. In addition to the hundred wines à la carte and nearly 40 champagnes, Thomas is proud to offer a dozen gins from all over the world.
"Even 90-year-old grandmothers love it," he says in an amused tone. The two partners rely mainly on their good humour to attract Rémois and tourists. "A restaurant is like a play," Thomas insists. We have to laugh and feel good about it.
We want customers to feel at home. »
To apply to the Bistro des anges : contact@bistrodesanges.com
JORIS BOLOMEY
The Business News – Reims and its Region – Journal l'Union of August 30, 2019